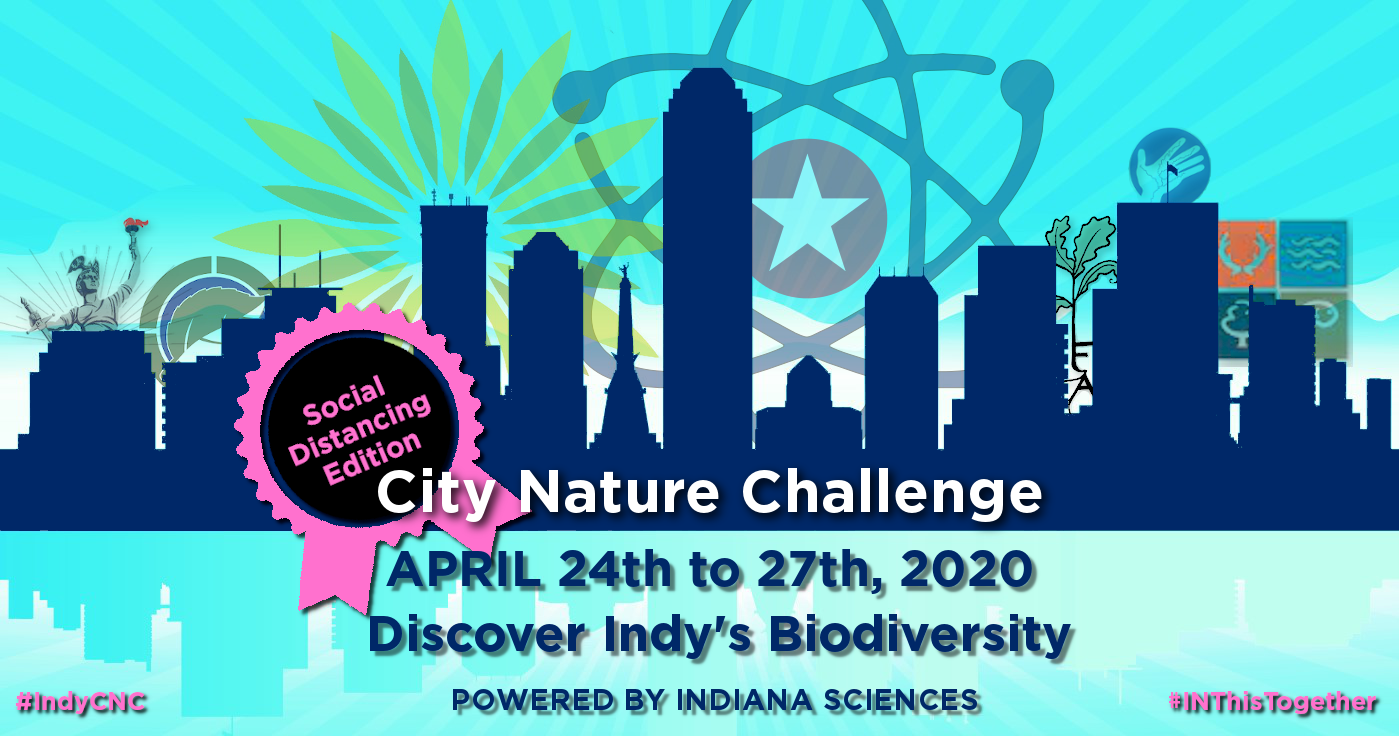 COVID19 UPDATE
While so many Hoosiers navigate the challenges of stay at home orders, continuing "essential job" obligations, and caring for children and loved ones during the pandemic, the organizers of the Indianapolis City Nature Challenge (#IndyCNC) hope to create opportunities for individuals to rediscover wonder and beauty while we are all surrounded by things that can understandably invoke fear and anxiety.
The City Nature Challenge (CNC), at its core, is about connecting people and communities with nature. In these unique times, being outdoors and connecting with nature is a safe and responsible way to cope with stress, while maintaining the health of ourselves and our communities. Moreover, the #IndyCNC allows Hoosiers to come together, unite, and collaborate with citizen and community scientists around the world, participating in whatever ways they can, to document the biodiversity of our planet. During such uncertain times, it's more important than ever to foster a sense of community, and the CNC allows us to do just that.
After reviewing the guidance from federal, state, and local governments; as well as updates from the CNC organizing committee; it has been determined that the challenge can be continued in a way that adheres to all social distancing guidelines and is safe for organizers and participants. With a few modifications, the #IndyCNC can still offer Hoosiers a way to safely connect with nature and each other during these unique times. While the CNC will continue, organizations and participants should ensure that any remote bioblitz events follow the guidelines of local public health authorities.
We want to embrace the collaborative aspect of sharing observations online with a digital community, and celebrate the healing power of nature as people document their local biodiversity to the best of their ability. We want citizen scientists around the world to have the opportunity to participate, while still following all federal and local recommendations to keep communities safe. Thank you for being a part of this community, for making this event possible, and we hope you all stay healthy and safe. #INThisTogether
#IndyCNC
2020 Indianapolis City Nature Challenge Press Release
The City Nature Challenge is an effort for cities to find and document as much urban nature as possible by challenging residents to become citizen scientists: Residents are asked to explore their area (backyard, playgrounds, parks, etc.) for plants and bugs/animals, document their findings (take a photo), and report them (via the iNaturalist website or app). The underlying objective of this event is to develop a new baseline of a city's biodiversity and to monitor how exactly change is accelerating.
The 2020 City Nature Challenge will take place on April 24-27, 2019 and will be undertaken in over 250 cities across the world and Indianapolis, South Bend, and Fort Wayne are among those cities competing in this international event!
Indianapolis
Event size is tracked via the event pages below, so please sign-up!
South Bend
https://www.inaturalist.org/projects/city-nature-challenge-2020-michiana
Fort Wayne
https://www.inaturalist.org/projects/city-nature-challenge-2020-fort-wayne-area
Anywhere in Indiana!
https://www.inaturalist.org/projects/indiana-city-nature-challenge-2020
This event is one of the largest citizen science events in Hoosier history, so join the fun and help make history!
---
EVENTS
---
Several partners join forces every year for the Indianapolis City Nature Challenge to bring you closer to all of the amazing wildlife Indianapolis has to offer.
With all previously organized partner events canceled, the #IndyCNC aims to be a vehicle for organizations to stay engaged with participants through individualized "do it yourself" remote challenges that empower Hoosiers to uncover the urban wildlife right outside of their window.
Organizers encourage Hoosiers to participate in their own yard, or local green-spaces and local/state parks, while following appropriate social distancing guidelines by joining our "Social Distancing Edition" Citywide Challenges!
#IndyCNC "SOCIAL DISTANCING EDITION" CITYWIDE CHALLENGES
Document plants, animals, bugs, and more with iNaturalist, wave at your neighbors from an appropriate distance, and pick-up any litter you see!
Friday, April 24th starting at Noon

Student "15 Minute Backyard Field Trip!" Challenge

Parents and Teachers: Need a change of pace in your eLearning? Have your students open the backdoor and discover the natural world tucked right between the house and the car!

Saturday, April 25th starting at Noon

Citywide "15 Minutes of Nature!" Challenge

We are encouraging everyone in Indianapolis Metropolitan Area to take 15 minutes to step outside and appreciate the urban biodiversity right outside of their front door!

Sunday, April 26th starting at Noon

Family "15 Minute Nature Walk!" Challenge

Talk a walk with the kids, your partner, or that special four-legged friend; whatever family means to you; and document the urban wildlife hiding right outside of your window!
Without our partners this city wide project would not be possible, so please support these local groups!
---
SUPPORT
---
The Indianapolis City Nature Challenge is organized by un-paid volunteers and fiscally sponsored by the 501(c)3 non-profit Indiana Sciences. If you would like to support this effort, please consider donating at the link below:
SUPPORT THE INDIANAPOLIS CITY NATURE CHALLENGE
If you enjoy events like the City Nature Challenge and would like to join our movement, please consider signing up on the form below to stay up to date and, if you are ambitious, join our team!
You can also support the event by purchasing merch from the shop! We currently have the locally designed "Science Will Unite Us" tees from United State of Indiana! All proceeds go to support our STEM events and programming throughout Indiana!
This event, and everything we do, is only possible due to the amazing support and generosity of Hoosiers passionate about science. From the bottom of our hearts: Thank you!