---
INDIANAPOLIS CITY NATURE CHALLENGE
---
We just want to give a giant thank you to our partners and the 239 observers that made 3,713 observations in the #CityNatureChallenge last weekend!

You make #CitizenScience possible!

Please take a moment to fill out our feedback form if you participated!https://t.co/OuxiurHLZc pic.twitter.com/vv29EnGzXE

— Science March Indy (@ScienceMarchIND) May 6, 2018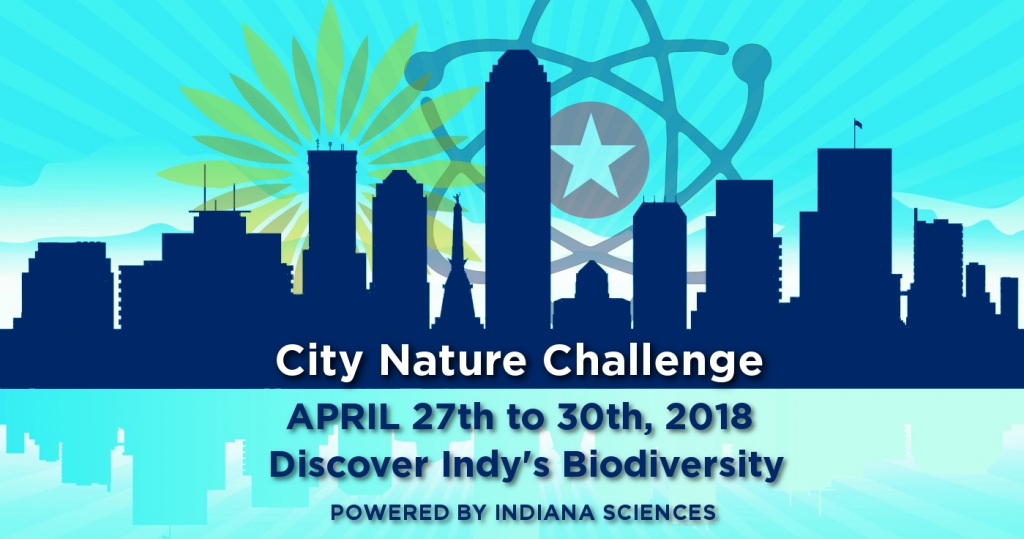 The 2018 City Nature Challenge was an effort for cities to find and document as much urban nature as possible by challenging residents to become citizen scientists: Residents are asked to explore their area (backyard, playgrounds, parks, etc.) for plants and bugs/animals, document their findings (take a photo), and report them (via the iNaturalist website or app). The underlying objective of this event was to develop a new baseline of a city's biodiversity and to monitor how exactly change is accelerating.
The 2018 City Nature Challenge took place on April 27-30, 2018 and was undertaken in dozens of cities across the world and Indianapolis was one of those cities competing in this international event!
We tracked the size of this event via the event pages below!
https://www.facebook.com/events/1276612512439436/
https://www.eventbrite.com/e/indianapolis-city-nature-challenge-tickets-44742308449
This event was one of the largest citizen science events in Hoosier history, so thank you for making history!
---
EVENTS
---
Several partners joined the Indianapolis City Nature Challenge to bring you closer to all of the amazing wildlife Indianapolis has to offer, and you can find a list of their events on the page linked below:
INDIANAPOLIS CITY NATURE CHALLENGE EVENTS
We asked organizations that wanted to host a City Nature Challenge event, or were already hosting an event and wamted to incorporate the City Nature Challenge into that event, to submit a request to the form linked below:
SUBMIT AN INDIANAPOLIS CITY NATURE CHALLENGE EVENT
Without our partners this city wide event would not have been possible, so please support these local groups!
---
RESOURCES
---
The iNaturalist team has created an amazing "Getting Started" guide which you can find at the link below:
https://www.inaturalist.org/pages/getting+started
Once you are up and running you should join the Indianapolis City Nature Challenge project at the link below:
https://www.inaturalist.org/projects/city-nature-challenge-2018-indianapolis
The great folks at the City Nature Challenge have created an amazing educational toolkit which you can find at the link below!
http://citynaturechallenge.org/education-toolkit/
There are several other groups in Indianapolis that use iNaturalist, so once you get up and running explore what are partners (like Keep Indianapolis Beautiful) are doing throughout the year!
---
DATA
---
We are commuted to using the data we collected for the common good. We want to partner with universities, non-profits, and private/public organizations to help improve our community. If your organization would like to leverage this data for a project that serves the common good, please submit a request on the form linked below:
Baseline data for the biodiversity in Indianapolis can be leveraged as a powerful tool in environmental impact studies, research projects, city grant proposals, and more! Citizen sciences will collect this data, and they need you to put it to good use!
---
SUPPORT
---
The Indianapolis City Nature Challenge is organized by un-paid volunteers and fiscally sponsored by the 501(c)3 non-profit Indiana Sciences. If you would like to support this effort, please consider donating at the link below:
SUPPORT THE INDIANAPOLIS CITY NATURE CHALLENGE 
If you enjoy events like the City Nature Challenge and would like to join our movement, please consider signing up on the form below to stay up to date and, if you are ambitious, join our team!
You can also support the event by purchasing merch from the shop! We currently have the locally designed "Science Will Unite Us" tees from United State of Indiana! All proceeds go to support our STEM events and programming throughout Indiana!
This event, and everything we do, is only possible due to the amazing support and generosity of Hoosiers passionate about science.  From the bottom of our hearts: Thank you!